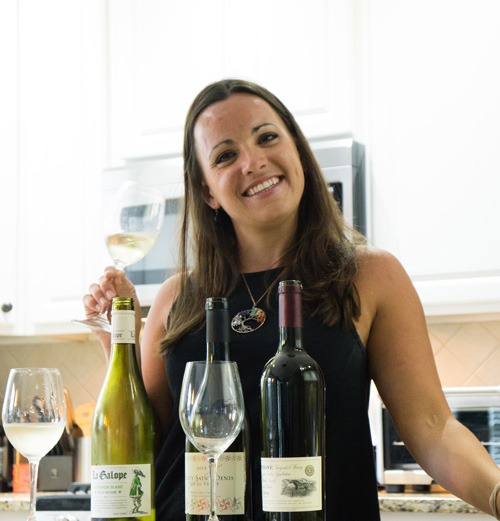 Stacey Graf Wine Lover & Sommelier
My passion for wine began spring semester of my junior year at Indiana University while studying abroad in Florence, Italy at the Lorenzo de Medici School of Art . As an elective course, I chose to take 'Introduction to Italian wines'. From that point on, I was obsessed with tasting different wines from all over the world and reading as much as I could on the subject. I knew wanted to embark on a career in the wine industry.
Shortly after college I moved from my hometown in Atlanta, Georgia and took a position as a wine consultant/distributor in Chicago, Il. In addition to my sales role, I hosted in-home wine tastings and coordinated wine tasting dinners with restaurants. During this time I also studied and passed the Certified Specialist of Wine (CSW) exam with The Society of Wine Educators, and provided wine education for the company's sales representatives. Still hungry and eager to learn, I took a part time position at a family owned wine shop in order to join in on staff tastings and learn more about boutique wines from around the world.
A few years later, I decided to switch gears and went to work as a sommelier in training at Graham Elliot, one of the top Michelin Star restaurants in the country at that time. Working alongside my sommelier instructor, I gained hands on experience learning cellar management, building wine lists, and perfecting the proper steps of service in fine dining. It was during my time at Graham Elliot that our team was awarded its second Michelin Star. The restaurant was one of only two restaurants in Chicago to obtain this prestigious accolade.
Following my sommelier training in Chicago, I moved back to Georgia where I worked alongside the general manager to taste out wines for the wine list at Cru Wine Bar at the Avalon in Alpharetta. During this time I obtained the first level Cicerone Certificate, Sake Adviser Certificate, and the Level 1 and 2 Certified Sommelier Certificate with The Court of Master Sommeliers.
Shortly after achieving my Sommelier certificate, I joined the True Story Brands team as beverage director and sommelier at Cape Dutch in Atlanta, Georgia. After having completed the Court of Master Sommeliers certified exam in September 2015, I was able to provide a fresh take on intriguing wine pairings to highlight Cape Dutch's global menu. With 10 plus years of curated professional experience in the wine and beverage industry and traveling to various wine regions around the globe, I decided it was time to step out on my own and offer my knowledge and services to people who are excited about wine and are eager to learn more about it. I am now embracing the opportunity to be creative in the way I educate people in the fascinating and endless world of wine.