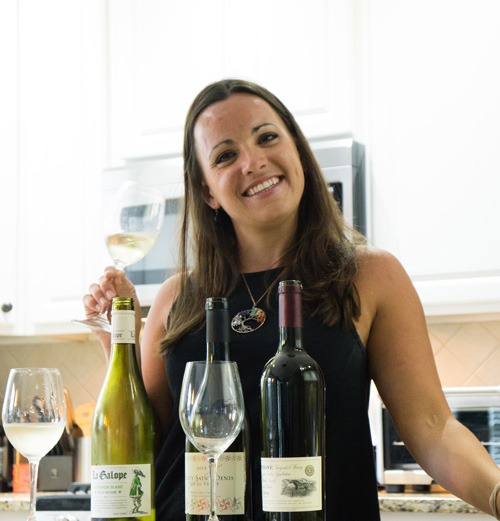 Fall 2019 Newsletter and In-Home Tasting Ideas
It's actually happening (even though the temperature right now does not reflect it)! The end of summer is here, and we're gearing up for shorter days and cooler temperatures...hopefully. The time has come to say goodbye to summer and hello to fresh fall produce, like butternut squash, pumpkins, apples, pears, and creating warming comfort food dishes like stews, pot pies, and Thanksgiving favorites.
As the seasons change and we begin to find new and exciting recipes for fall, we might want to think about stepping outside of our comfort zone from the same old wines we traditionally enjoy this time of year. Most people play it safe with the classic Chardonnay, Pinot Noir, or Gamay Beaujolais Nouveau to pair with their seasonal favorites.
While these wines have the bones, structure, and finesse to pair beautifully with fall dishes, many of us are missing out on all of the fantastic alternatives that are available as perfect pairings for the season's cuisine. This month we'll focus on two wines (one white and one red) you can use for dinner pairings, wine tastings, and parties that are fun, unique, and won't break the bank!
Instead of Chardonnay, I've found a white that is a gorgeous alternative, and it pairs perfectly with the foods and flavors of fall. Maison Barboulot's Marsanne-Viognier from France is a beautiful little gem I found at Trader Joe's when I was searching for fabulous $10 and under wines to add to my catalogue of daily drinkers. I was shocked at the quality of this unoaked 70% Marsanne, 30% Viogner blend.
It expresses aromas and flavors of pear, apricot, and a hint of fig. Medium in body, this dry white is crisp with hints of honey and floral notes on the nose, and displays a stoney minerality on the finish. This can be a drink now or hold wine, as it will continue to develop with a few years of aging.
Viognier is a rich white wine and generally goes well with the sort of ingredients and dishes that go with Chardonnays and oaked Chenin Blancs. Viognier just tends to have a spicier twist. The Marsanne in this blend adds flavors and scents of nuts, peaches, pears, melon, spice, and flowers. These kinds of blends work well with a wide variety of seafood, roasted or grilled chicken, pork, and Asian cuisine, and it just so happens to pair perfectly with autumn classics from butternut squash risotto or soups, to carrot dishes, pumpkin pie, and most importantly...turkey!
Stacey's Bonus Wine Recommendation
Chenin Blanc, aka Vouvray in France's Loire Valley is one of my favorite white wines this time of year for numerous reasons. The grape produces everything from dry crisp whites with aromas of anjou pears, sweet dessert wines, and even a variety of sparklings. It is another white that resembles a Chardonnay, but with a bit of a twist in aroma and flavor.
There are so many options to choose from with this grape, you could do an In-Home Tasting just on the different expressions of Chenin Blanc and match them with an assortment of fall appetizers! Check out Total Wine or Trader Joe's for a variety of Chenin Blanc options.
Other Perfect Fall Pairing Options for White Wine and In-Home Tastings
Apples: Vouvray, Gewürztraminer
Brussels Sprouts: Sauvignon Blanc
Butternut Squash: Semillon & Blends
Mushrooms: Champagne, Chablis (Unoaked French Chardonnay)
Turkey: Marsanne-Roussanne Blends, Chablis, Chenin Blanc
Pears: Sauternes
If you really want to wow family and friends this year with a killer red, Siglo Gran Reserva 2009 from Rioja, Spain packs a perfect punch for rustic fall flavors. If you love the structure of Cabernet Sauvignon, but the fruitiness of Grenache, then you will love this gorgeous Tempranillo from Costco, and for $17.99 it's a steal.
Unlike most Rioja Gran Reservas that require up to 30 years of cellaring, this 2009 is singing with aromas of dried flowers, fig, plum, and rounded out with hints of mushroom, dust, and earth. This complex red does require about 30 minutes of decanting (breathing time). Pair this with a mushroom risotto or soup to really pick up on the earthiness of this wine. Pot roast, beef stew, turkey, and partridge are matches made in heaven. This is the kind of pairing that will bring out the best in food and wine, and blow people away at your next wine tasting!
Other Perfect Fall Pairing Options for Red Wine and In-Home Tastings
Butternut Squash: Barbera, Dolcetto
Sweet Potatoes: Zinfandel
Mushrooms: Rioja
Venison or other Wild Game: Barbaresco, Barolo, Red
Bordeaux, Rioja
Figs: Tawny Port
Pumpkin: Barrel Aged Port
Interested in putting an in-home tasting event together? Contact Stacey here or at (770) 282-4434. From simple wine and hors d'oeuvres pairing parties, dinner events, corporate wine tasting functions, and educational courses, Stacey can put together an entertaining and memorable event for any occasion!